About the Team- Brad
We are committed to helping our clients, whether they are concerned for their own financial security, or that of their family or business. I can't do it alone; here you'll find a listing of the people who help make it happen. Together, we strive to offer exceptional customer service to our clients. If you have questions, comments, or desire a consultation, please let us know.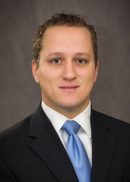 Bradford J Martindale
Associate Financial Planner
Brad has over a decade of experience in the financial planning industry. He is essential to our team in helping to develop & analyze client financial plans, manage & direct the investment operations, and help with business client onboarding.
Brad is originally from the Akron area, and started his career with Northwestern Mutual in 2005 as an intern and then accepted a full-time position with Northwestern upon graduating from The Ohio State University in 2007. He has been involved in various chamber organization and currently sits on the Board of Directors at Pegasus Farm in Hartville, Ohio. He also serves as committee chair for the Human resources committee and sits on the executive committee. During his free time, he enjoys playing flag football, softball and sqaush.